Keble College
Thursday, 24 June 2004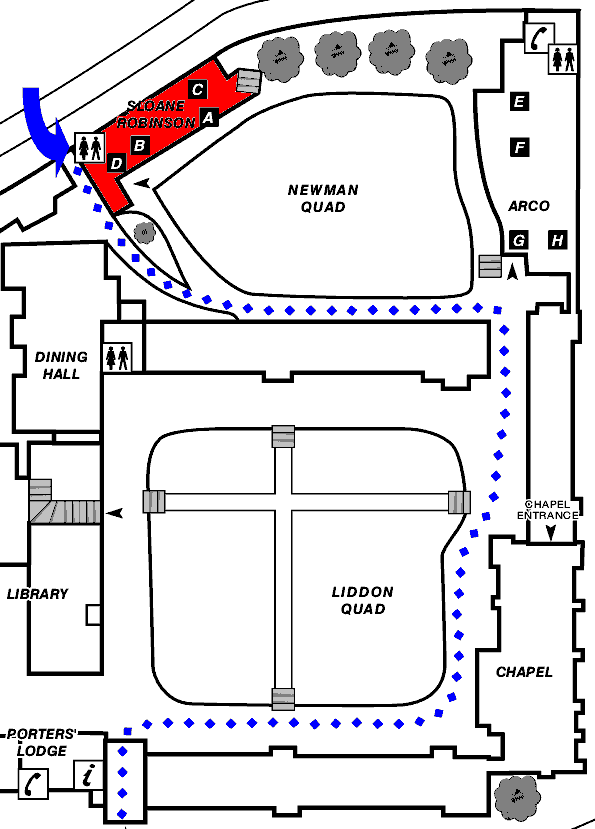 Picture Gallery
Location
-- mainly in the Sloane Robinson Building (shown red in the plan) with some workshops in the ARCO building (on the right in the plan).
There will be direct access from Blackhall Road (blue arrow) during the morning registration period only.
Otherwise access is by the blue dotted route shown from the Porter's lodge on Parks Road (bottom of plan).
Registration (and coffee) is at street level. The main lecture theatre is one level down from registration and the workshops one level up from registration.
Note that from the corner of the Newman Quad you will enter the building at the lecture theatre level.
Prizes!
There will be a Prize Draw at this year's conference.
There will be a feedback sheet in your conference pack. Prizes will be given to a number of persons named on the completed sheets that are drawn from a lucky dip ON THE DAY. This year's first prize will be a voucher for a meal for two at The Old Parsonage. There will be Champagne prizes for the second and third names drawn from the lucky dip.
---
Programme | Workshops | Who's Who? | Pictures | 9th (2004) ITSSC Home Page
---
ITSSG, 28 May 2004
Planning papers & minutes